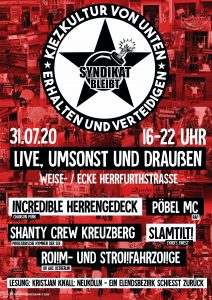 english below
Freitag // 31.07.2020 // 16-22 Uhr // Weise- / Ecke Herrfurthstraße // Neukölln

Der 1. Räumungsversuch gegen uns rückt näher. Doch bevor wir am 1. August unsere Wut darüber auf die Straße tragen und danach kollektiv am 6. / 7. August klar machen: Räumung is nich!, wollen wir euch am Freitag, den 31.07. noch einmal einladen mit uns gemeinsam das zu erleben, wofür das Syndikat seit über 35 Jahren stand und steht: unkommerzielle, selbstorganisierte und widerständige Kiezkultur von Unten.
Von 16 – 22 Uhr erwarten euch vor unserer Haustür verschiedene Live-Acts, Lesungen, Redebeiträge und Info-Tische.
Kristjan Knall eröffnet den Abend mit einer Lesung aus seinem Buch "Neukölln – ein Elendsbezirk schiesst zurück". Danach spielen: ROi!m- & StrOi!fahrzOi!ge (Oi aus Ostberlin), Slamtilt! (Hardcore Punk), Shanty Crew Kreuzberg (Proletarische Hymnen der See), Pöbel MC (Rap) und The Incredible Herrengedeck (Chanson Punk).
Zwischen den Acts gibt es Redebeiträge der bedrohten Projekte und anderer Initiativen, letzte Infos zur Demo am Tag danach, sowie verschiedene Infostände. Für das leibliche Wohl wird in vernachlässigbarer Reichweite gesorgt sein.
WICHTIG: Wir stecken immer noch mitten in der Corona-Pandemie, auch wenn sich das gerade eventuell anders anfühlt. Wir wollen mit euch einen schönen Abend verbringen, aber auch sorgsam und solidarisch miteinander und mit der Infektionsgefahr umgehen. Deshalb beachtet bitte das Vermummungsgebot und achtet auf Abstand und die gängigen Hygiene-Empfehlungen.
Und zu guter letzt noch eine Bitte von uns: wir wollen mit euch zusammen einen schönen und ausgelassenen Abend verbringen. Aber wir wollen am Tag danach auch leidenschaftlich, wütend und dementsprechend fit auf die Straße gehen. Also genießt den Abend, das Programm und das Zusammenkommen, aber versucht euch nicht ganz davon hinreißen zu lassen. Wir feiern angemessen nach dem verhinderten 1. Räumungsversuch.
---
The first eviction attempt against us is coming up. But before we bring our anger about it to the streets on August 1 and then collectively make it clear on August 6/7:Eviction is not, we want to invite you on Friday, July 31st to share with us once again what Syndikat has stood for for over 35 years: non-commercial, self-organized and resistant neighborhood culture from below.
From 16 – 22 o'clock different live acts, readings, speeches and info tables are waiting for you in front of our door.
Kristjan Knall opens the evening with a reading from his book "Neukölln – ein Elendsbezirk schiesst zurück" (in German). Afterwards there will be a gig by: ROi!m- & StrOi!fahrzOi!ge (Oi from East Berlin), Slamtilt! (Hardcore Punk), Shanty Crew Kreuzberg (Proletarian Hymns of the Sea), a surprise act and The Incredible Herrengedeck (Chanson Punk).
Between the acts there will be speeches of the threatened projects and other initiatives, last information about the demo the day after, as well as various info tables. The physical well-being will be taken care of in a negligible range.
IMPORTANT: We are still in the middle of the Corona pandemic, even if it might feel different right now. We want to spend a nice evening with you, but we also want to treat each other and the danger of infection with care and solidarity. Therefore please come with a mask and pay attention to distance and the usual hygiene guidelines.
And last but not least a request from us: we want to spend a nice and relaxed evening with you. But the day after, we also want to go out on the street passionately, angrily and accordingly fit. So enjoy the evening, the program and getting together, but try not to get completely overwhelmed. We'll celebrate appropriately after our first failed attempt at eviction.