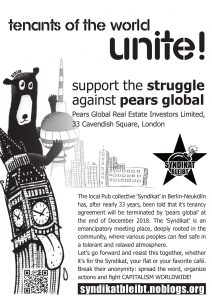 Dear Friends,
This is a call for solidarity from the tenant's movements in Berlin. The local Pub colective 'Syndikat'* in Berlin-Neukölln has, after nearly 33 years, been told that it's tenancy agreement will be terminated by 'pears global' at the end of December 2018.
What you can do:
1) Spread the Hashtags: #syndikatbleibt and #pearsglobal
2) Hang the poster in London and share pictures
3) And most important: People from Syndikat are coming to do a demonstration in front of the Global Real Estate Investors Limited, 33 Cavendish Square at 15:00 on december 18th.
Come and join the protest – be colorful and creative. We are happy to hear and share stories about the housing situation in london and berlin.
syndikatbleibt.noblogs.org
*The 'Syndikat' is an emancipatory meeting place, deeply rooted in the community, where various peoples can feel safe in a tolerant and relaxed atmosphere. Let's go forward and resist this together, whether it's for the Syndikat, your flat or your favorite café.
The PEARS Brothers live in London and have their office there. They own 6200 apartments in Berlin through letterbox companies. People from Syndikat travelled across Europe piecing together clues, from empty shell companies in Luxembourg, through luxury new developments in Copenhagen, to a finally find out that they are owned by the secretive British billionaire property Moguls Pears Family, who are buying up huge swathes of Berlin and other European cities.
In the last weeks we received dozens of emails from tenants who has also troubles with Pears as a landlord. We have done several actions including a rally in front of the Pears Office in Berlin. We are working on a documentary about our fight against pears that we will publish in Germany and England. Now we want to go one step further. In the week before Christmas some people want to travel and do an action in London. And we will need your help and solidarity.