Every sunday | 4 pm | Syndikat | Open support-meeting
english below
Der Räumungstermin am 7. August steht und bis dahin wollen wir den politischen und öffentlichen Druck maximal erhöhen. Das schaffen wir nicht alleine, sondern nur gemeinsam mit euch allen.
Wenn du den Kampf für den Erhalt des Syndikats unterstützen willst, aber nicht weißt wie, ist das offene Unterstützer:innen-Treffen genau der richtige Anlaufpunkt. Hier kannst du Mobi-Material abholen und / oder gemeinsam mit anderen Menschen direkt verteilen. Es gibt Material zum Malen von Transpis, Basteln von Schildern oder was auch immer euch einfällt. Und es sind immer Menschen vom Syndikat-Kollektiv und solidarische Unterstützer:innen da, mit denen ihr eure Ideen besprechen und umsetzen könnt.
Kommt vorbei, denn:
Wir sind viele – Wir sind wütend – Wir wollen das das Syndikat bleibt!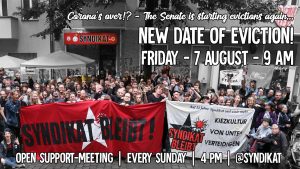 The eviction date of 7th August has been set and until then we want to maximize political and public pressure. We cannot do this alone, but only together with all of you.
If you want to support the fight to keep the Syndikat alive, but don't know how, the open meeting of supporters is exactly the right place to go. Here you can pick up mobilization material and/or distribute it directly together with other people. There is material for painting banners, making signs or whatever you can think of. And there are always people from the Syndikat Collective and solidary supporters there with whom you can discuss and implement your ideas.
Come along, because:
We are many – We are angry – We want Syndikat to stay!